Bioguard Surgical Gel refill 5 Litres
Brand:

: Bioguard

Product Code:

BG005

Availability:

In Stock
---
This product has a minimum quantity of 2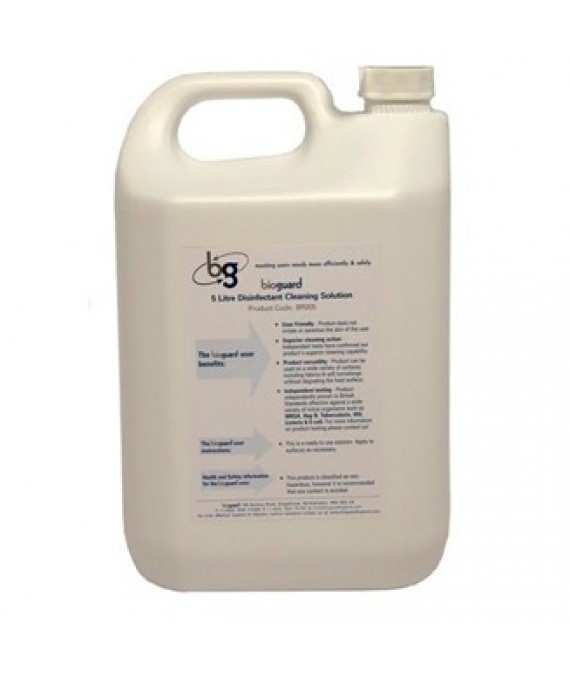 Refil for hand gel - 5 litres. A very useful disinfectant hand gel for swine flu prevention. This formulation contains 70% Isopropanol Alcohol in comparison to the standard 50 - 60% found in standard gel formulations. Tested and proven to kill COVID-19 Coronavirus
Skin moisturisers and conditioners prevent irritation and sensitisation commonly associated with alcohol coming in contact with hands.
Typical applications include Offices, Schools, Hospitals, Kitchens, emergency services, Nursing Homes, Surgeries, Mortuaries and homes.
High performance alcohol hand gel that is anti viral and bacterial. Contains Aloe vera to reduce skin irritation risk.
Tried and trusted for more than 15 years, independently tested, economical to use and with enhanced skin-moisturising properties.
Cutting-edge research and development, combined with independent testing, ensures Bioguard surgical hand gel with Aloe vera is truly effective for use across the whole spectrum of professional healthcare environments.
Our intensive focus on performance delivers a product which is:
Powerfully effective – Independently tested to British and European Standards
Non-hazardous – Conforming to the latest health and safety legislation.
User friendly – Contains cosmetic-grade skin conditioners and moisturisers, plus Aloe Vera, to safeguard users' hands from irritation or sensitisation.
Time and labour saving – The combined cleaning and disinfection action removes the need for separate products.
Ideal for high risk environments – The professionals' choice since the early 1990s; widely used in clinical facilities, including mortuaries and testing labs.
Flexible and convenient – Can be used as a standalone hand decontaminant in situations where clean water is not available for washing.
Environmentally frinedly – Proven by independent audits to be nontoxic, biodegradable and non-accumulative in the eco-system. No special procedures are required for product disposal or in case of spillage.
Economic in use – Superior cleaning action means you use up to 30% less, when compared to rival products.
Related products