Bioguard Touchless Wall Dispenser
Brand:

: Bioguard

Product Code:

DISPA

Availability:

In Stock
---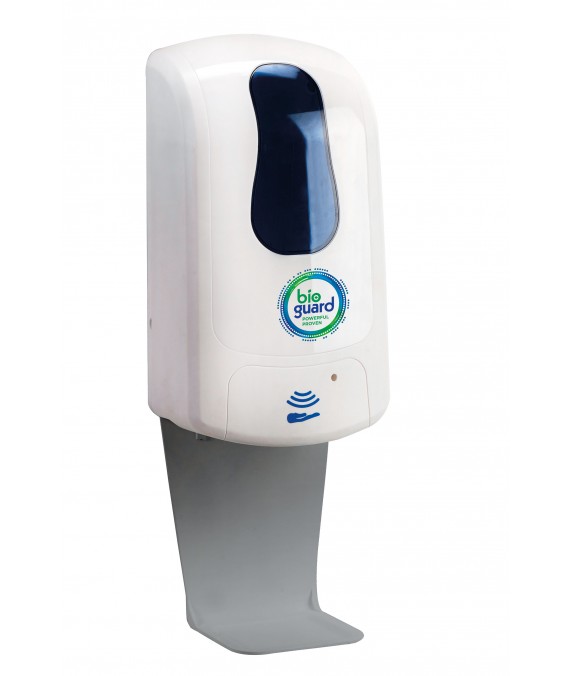 Touchless wall dispenser system with fully sealed cartridges that prevent product contamination.
The touchless Wall Dispenser System is a high-performance hand sanitising system that is reliable, eliminates cross infection and can be used across the full range of Bioguard hand sanitising products.

• Hygienically Sealed Cartridges – The hygienically sealed cartridge and non-ventilated pump mechanism does not allow the ingress of air into the cartridge during use to help prevent product contamination and ensure 'factory fresh' product is dispensed every time.
• Mess Free Dispensing – Clean tip pump technology eliminates pump blockages and drips which can cause a mess and present a health and safety risk through spillages to users.
• Cost Effective – Pump delivers product in measured amounts to help control costs. Collapsible cartridge system eliminates product wastage.
• Universal Dispenser – Single wall dispenser system is compatible with our foam, gel and soap hand products, eliminating the need for different dispensers and making it easy to swap products between locations.
• Durable and Reliable – Our dispenser features reliable infrared sensor technology and a long battery life.
• Easy To Use and Install – Large window panel on front of dispenser clearly shows when cartridges need replacing. Dispenser is easily fixed to wall with a choice of sticky pads or screw fittings.
• Hygienic – Touchless technology eliminates cross contamination as hands do not need to touch the unit. Easy to clean dispenser design and optional drip tray helps maintain dispenser cleanliness and improves infection control.
• Minimal Environmental Impact – Cartridges and pumps are fully recyclable. The collapsible cartridges greatly reduce waste and environmental impact.

Suitable for the following Bioguard products: Alcohol Free Hand and Body Foam, Surgical Hand Gel, Medical Hand Scrub, Anti Bac Aqua Soap, Anti Bac Lemon Fragrance Soap
Related products