Evacuation Chair 2 Wheels - Ideal for Stairs
Product Code:

EVACCH

Availability:

In Stock
---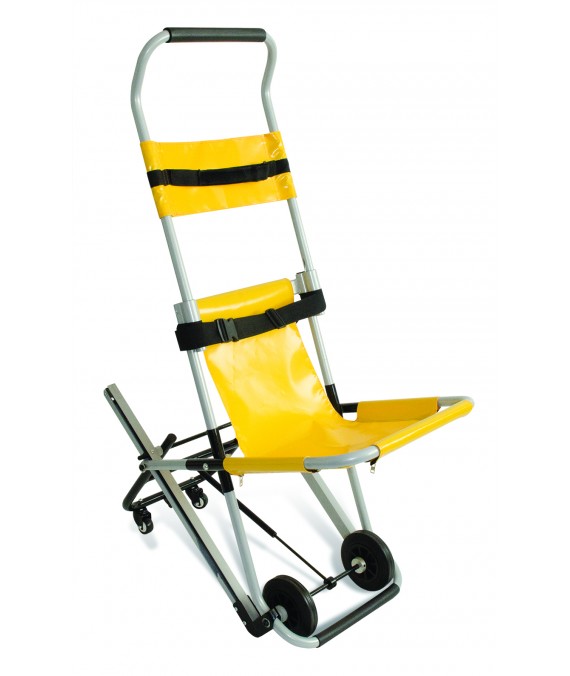 Evacuation Chair designed for easy use on stairs - with stair tracks for use by one person.
Relequip Evacuation Chair
Lightweight and compact for easy use and storage
Adjustable head pad and patient restraint
Impervious to bodily fluids
Aluminium alloy materials
Easy to clean
5 year warranty
The HSE and the Fire Safety Regulations make it clear that owners/managers of premises are responsible for evacuation procedure. It is no longer acceptable to dial 999 and wait for the Fire Service. A sick, injured, or, any person unable to negotiate stairs independently, quickly, and safely are at risk. The Relequip Evacuation Chair features an advanced 'tracked' design, allowing use by one operator, reducing health and safety concerns during use, eliminating delay, and allowing smooth descent of stairs. Most evacuation chairs do not have this facility and can only be used on stairs if lifted by two people. This chair slides safely down stairs on a track.
Colleges, Hotels, Offices, in fact, any multi-level building cannot afford to be without this essential evacuation device.
To view a video of this chair in action click here:
Size: Open 136cmH x 52cmW x 90cmD
Size: Folded 112cmH x 52cmW x 20cmD
Chair Weight: 10kg
Maximum Load: up to 159kg
Downloads
Related products