New touchless Bioguard gel dispenser launched

New touchless Bioguard gel dispenser launched
---
Posted by Jo O'Donovan   |   16 Sep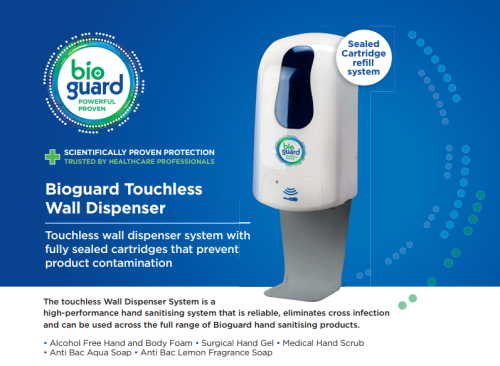 ---
We are so pleased to announce the launch some new Bioguard products. We are now stocking the all-new Touchless Wall Dispenser. This is a high-performance hand sanitising system that is reliable and eliminates cross infection. It can be used for alcohol hand gel or any of the other Bioguard hand sanitising products including the alcohol-free hand and body foam, medical hand scrub, anti bac aqua soap and anti bac lemon fragrance soap.
Key Benefits Include:
Hygienically sealed cartridges
Mess free dispensing
Cost effective
Universal dispenser
Durable and reliable
Easy to use and install
Hygienic (prevents cross contamination)
Minimal environmental impact (fully recyclable cartridges and pumps as well as collapsible cartridges)
This system is of a professional standard ideal for hospitals, research, surgeries, schools, colleges, institutions, offices, factories, warehouses and public amenities. It is also useful for live events and portable sanitation facilities. For more information and to buy this dispenser click here.
---